Leading The Market With 5,000+ Reviews
Why Use A Night Guard?
When you use a custom night guard, the device will be made specifically for the shape of your mouth, providing the best fit and protection. They are designed to fit comfortably and securely in your mouth so that you don't wake up with an uncomfortable or loose-fitting guard. Since these guards are custom-made, they provide an added layer of protection against grinding that generic, or over-the-counter night guards (i.e. bite and boil) devices cannot offer.
What Are Night Guards?
A night guard is a form of dental protection that's worn at night to protect the teeth and jaw against bruxism. It is typically made of soft plastic or hard acrylic, and it fits over the upper or lower teeth.
What Are Mouth Guards?
A common form of teeth protection used while playing sports. Mouth guards can be purchased over-the-counter however, they are often bulky and uncomfortable to wear because they are a one-size-fits-all product.
Reduce Headaches
Millions of people suffer from tension headaches that are caused by teeth grinding and clenching while asleep.
Prevent Further Damage
ClearClub offers an affordable and convenient solution to protect against nighttime tooth grinding and clenching.
Mantain Your Health
Our night dental guards are made from high-quality and durable materials so that you can maintain a healthy bite.
Find The Right Night Guard For Your Teeth!
You may have tried different solutions such as mouth guards, mouthpieces, splints, or other dental appliances, but none of them compare to ClearClub's custom dental quality guards!
Affordable Custom Dental Guard
Protect your teeth while you sleep at a fraction of the cost with ClearClub's dental-grade custom night guards. Ordering a night guard from a dentist will cost 4x-5x more, with no difference in quality and effectiveness.
Custom Mouth Guard Quality
When compared to over-the-counter night guards that are often bulky and unconfortable to wear for long amounts of time, ClearClub's custom fitted solution offers twice the quality and effectiveness.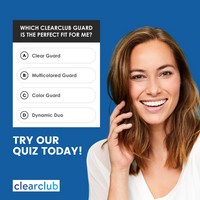 Find Your Custom Night Guard
Take our quiz to choose the best night guard for you.
✓ Thinner Night Guard: almost unnoticeable. It is easy to speak while wearing it.
✓ Thicker Night Guard: may provide the feeling of better protection at night.
✓  It is not uncommon for our customers to buy both nightguards. This would ensure that both your upper and lower teeth are protected.
Thin vs Thick Night Guards
Wearing a night teeth guard protects the teeth and jaw to prevent teeth clenching and grinding problems. ClearClub provides an effective solution for those suffering from nighttime bruxism by offering a comfortable yet protective night guard with a satisfaction guarantee that makes it easier than ever before to protect your dental health while you sleep.
Preventing Night Time Teeth Grinding
ClearClub has the perfect night guard for everyone! Whether you need heavy-duty protection or a comfortable fit, our three different thicknesses of clear guards provide just what you're looking for.
Night Guard vs Mouth Guard
A mouth guard and night guard are both two types of oral protection that are designed to prevent damage to the teeth, mouth, or jaw.The primary difference between the two is when they should be worn. A mouth guard is typically used during sports or other physical activities to protect the teeth, gums, and tongue from damage caused by impact.On the other hand, a night guard is designed to be worn while sleeping to protect against the involuntary grinding and clenching of the teeth. Night guards are usually custom-made for each individual as they come in a variety of thicknesses and sizes.
You Deserve A Good Night's Sleep
If you suffer from nighttime teeth grinding, it's important to take steps to protect your teeth so that they don't become damaged or worn down prematurely. This is also referred to as bruxism. People who suffer from bruxism may experience extreme sensitivity in their teeth, jaw pain, worn down or chipped teeth, and headaches. Left untreated, it can lead to temporomandibular joint disorder (TMJ) and other serious health problems.
Guarding Sleep Against Bruxism
Teeth grinding, or bruxism is a common condition affecting up to 30% of people and can cause chronic headaches, cracked teeth, TMJ, and jaw pain. Night guards are designed to provide a barrier between between the teeth. At ClearClub we offer an extensive selection of dental night guard products designed specifically for this purpose – providing optimal protection for your teeth while allowing you to get a good night's rest without worrying about additional dental damage occurring overnight. 


Choose The Best Custom Night Guard
Dr. Dan Petersen - Oral and Maxillofacial Surgeon
"As an Oral and Maxillofacial Surgeon, I have treated teeth clenching and grinding for over 20 years.
ClearClub offers the best and most affordable solution for bruxism. The ClearClub night guards are the same high quality as guards purchased from a dental office.
They look identical to night guards that I would have lab-fabricated and delivered in my office.
I have 3 ClearClub night guards myself. I highly recommend this treatment."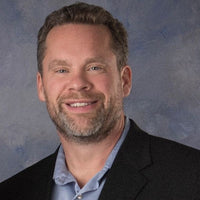 ClearClub is the only FDA-Registered OTC custom night guard in the US
ClearClub was founded with a clear objective: To offer professional quality custom dental nightguards at fair price.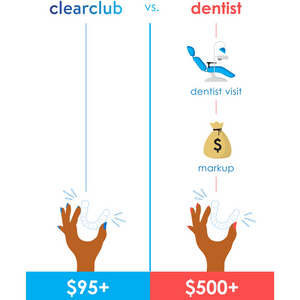 How Much Does a Night Guard Cost?
The most expensive option is custom-fitted night guards from a dentist. With a price tag of up to $1,000, your jaw may be aching from the financial shock.
ClearClub offers the same high-quality and custom night guards for up to 85% less than what you would pay at a dentist's clinic. 
Night Guard Cost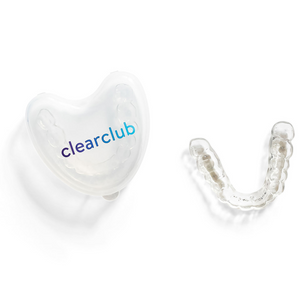 How Safe Is Your Night Guard?
Some companies may claim to use FDA-cleared materials but this doesn't mean that the company is approved by the FDA to manufacture custom night guards.
With ClearClub night guards, you don't have to worry. ClearClub is the only FDA-Registered manufacturer for over the counter custom night guards in the US.
Safe Night Guard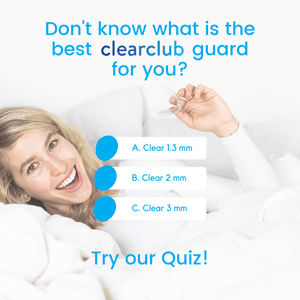 Which Thickness Is Right For You?
Our thinner night guard is almost unnoticeable and may be a better option if you plan to speak while wearing it during the day.
A thicker night guard may provide the feeling of better protection at night. Try our quiz or read our blog to get some additional guidelines.
Night Guard Thickness